Conservation
Preserving fans within our collections and those of other museums & private individuals.
Conserving The Fan Museum's Collections
Conserving (as opposed to restoring) fans requires both broad and specialist knowledge. Fans are mostly composite objects incorporating a plethora of materials within their construction – shell, ivory, metal, silk, vellum, paper, feathers, exotic wood and mica to name just a few. They are made using complex techniques often no longer practiced and require delicate handling to ensure safekeeping. Our Director, Curator, and conservator work in partnership to plan and deliver appropriate conservation plans and treatments, seeking only to consolidate/stabilize objects through discreet interventions such as gentle cleaning. At The Fan Museum we use preventative & remedial conservation methods to ensure the longevity and overall 'health' of our collections and prefer not to restore objects through practices such as repainting or re-gilding.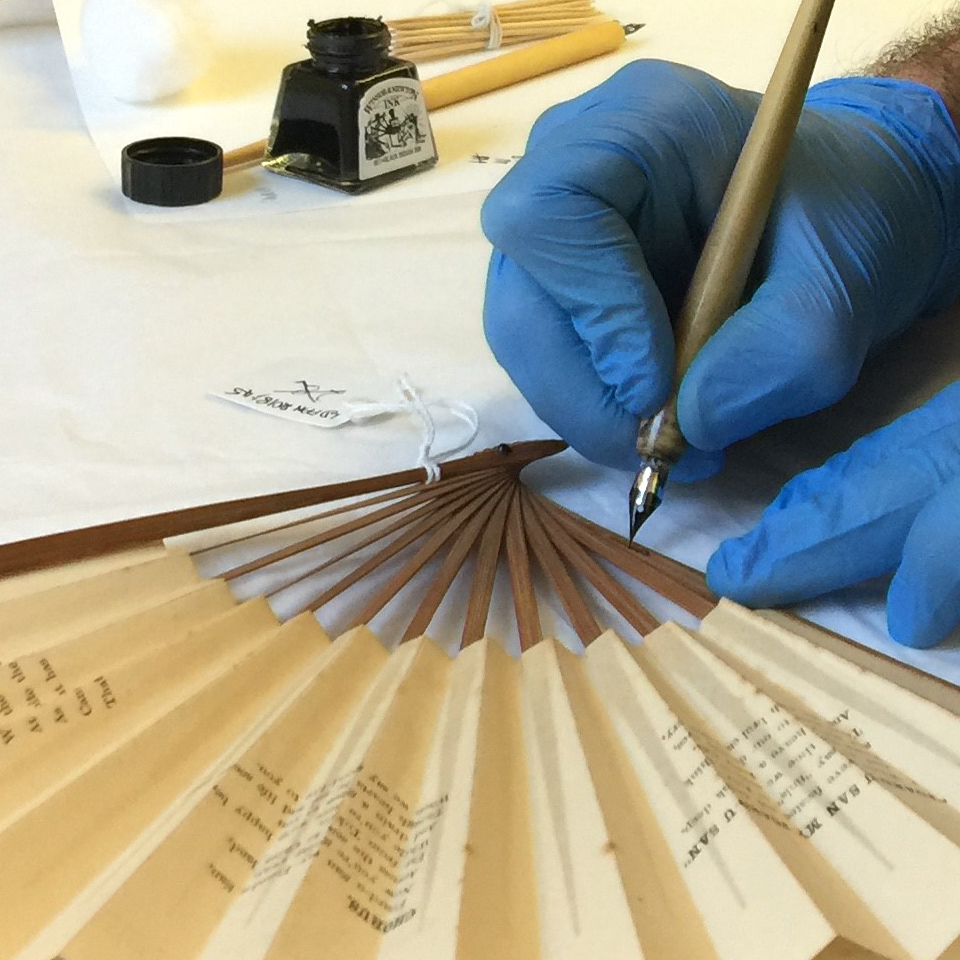 Conserving Fans for External Clients
The Fan Museum offers fan conservation services to members of the public, Museums, Galleries and other organisations. Over the past thirty years we've successfully conserved fans for numerous clients including the Royal Collection, the Worshipful Company of Fan Makers and countless private individuals. Our fan conservator brings a wealth of experience and carries out their work to the highest standards using only approved conservation-grade materials and techniques. Should you wish to enquire about the Museum's conservation services, please email the Curator attaching, where possible, images of all objects requiring treatment.
Please note it is not Museum practice to provide object valuations. Neither should you send by post any items to the Museum without first consulting a member of staff.
Search the Website
Enter a search term below to search the whole website.
Join the Newsletter
Get regular updates on upcoming events and new displays.
Easily opt-out at any time - Privacy Policy
Museum Admission Pricing
Adults: £5.00
Children (age 7-16): £3.00
Family ticket (up to 2 Adults and up to 3 Children, also 1 Adult and 4 Children): £10.00
Concessions: £3.00
Students (with vaild student card)
Senior citizens
English Heritage
Friends of The Horniman
Friends of The Victoria and Albert Museum
Staff/Volunteers of the National Maritime Museum
Free Entry for…
Children under 7, Disabled visitors and carers, Art Fund Members and London Pass Members
Wednesday Special:
Free entry for senior citizens.
Please note that the discounts listed above cannot be applied when visitors are part of a large group visit or guided tour group.  Please click here for further details.
Group Bookings
X
The Fan Museum's opening times each week are Wednesday to Saturday 11h00-17h00, with last entries at 16h30 each day.
Our latest exhibition, 'Boxed In, Fanned Out: Fans and their Boxes', is open from 3rd November and will run into the New Year.
Tickets for Museum by Candlelight, our special Christmas late-opening experience, are now on sale. Book now to secure your place!
Opening times may vary in line with public holidays. We will attempt to keep our channels updated in this case.
Our Orangery is not open as a public tearoom.