"In Celebration!" – Valediction
Sunday 10th December 2017
CHRISTMAS AT THE FAN MUSEUM
Advance tickets are now available for the premiere costumed & candlelit reading of Wayne Adrian Drew's critically acclaimed new play about Jane Austen and her Blackheath relative, Edward Cracroft Lefroy…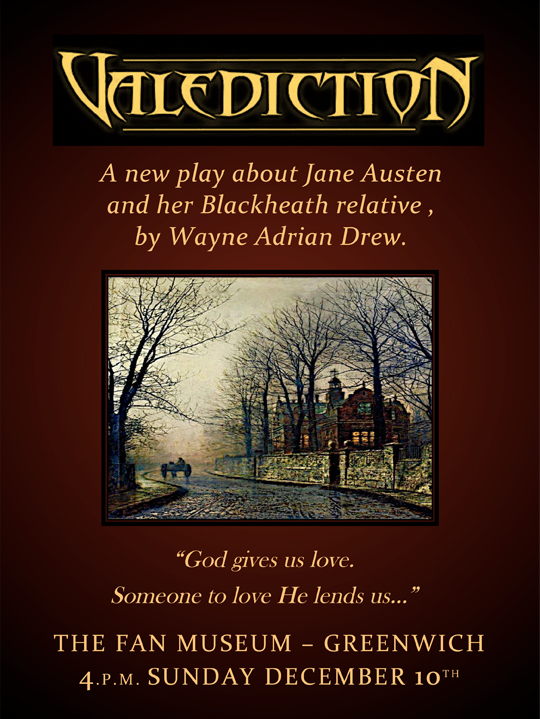 Valediction
4 pm, Sunday 10th December 2017
Tickets: £12.00, advance booking only
For tickets / further info, email: info@thefanmuseum.org.uk or call: 020 8305 1441
Beginning at two Christmases – one in 1795, the other in 1880 -this new play charts a year in which Jane and Edward experienced love, and its heart-breaking consequences. Drawing on new research and speculation, Valediction is a critically acclaimed witty, and ultimately moving recreation of a poignant time in two lives that will not easily be forgotten.
Specially written to commemorate the 200th anniversary of the death of Jane Austen, and featuring a cast of 6 professional actors, this premiere rehearsed reading, of award winning author Wayne Adrian Drew's new play, should prove perfect seasonal fair, although it's adult themes make it more appropriate for older audiences.
Admission is £12 and includes both interval drinks and seasonal snacks, as well as free admission to the Museum's latest exhibition. The play runs for approximately 2 hours and 15 minutes including intermission. All similar productions at the museum have sold out many weeks in advance and so early booking is absolutely essential.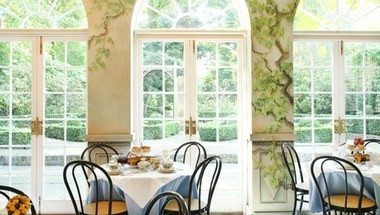 Private Hire
Make the museum the location for your next special event.
Social Media
Connect with The Fan Museum elsewhere online
Join the Newsletter
Get regular updates on upcoming events and new displays.