Lucile & Worth: Histories from the Archive – a lecture by Professor Amy de la Haye
Monday 22 June 2015
To coincide with The Fan Museum exhibition, 'Fans of the Belle Époque', this illustrated talk will explore the archives of couturiers Lucile and Worth, held at the Victoria & Albert Museum. The speaker will reveal how she, and co-author Valerie D. Mendes, drew upon this rich material to construct narratives for their books 'Lucile Ltd' and 'Worth: Portrait of an Archive'  (V&A Publishing 2009, 2014).
Amy de la Haye is a dress historian and curator. Her current role is Chair of Dress History & Curatorship at London College of Fashion. She was Curator of 20th Century Dress at the V&A 1991-1999. Her major exhibitions include 'Streetstyle: From Sidewalk to Catwalk' (V&A 1994), 'The Cutting Edge: 50 Years of British Fashion' (V&A, 1997), 'One Woman's Wardrobe' (V&A, 1998), 'Catherine Walker: A British Couturière' 'The Land Girls: Cinderellas of the Soil' (Brighton Museum) and 'Coco Chanel: A New Portrait by Marion Pike. Paris 1967-1971' (LCF 2013 and Polazzo Morando, Milan, 2013-2014).
Early booking is essential, as all of the previous 'In Celebration!' events have sold out well in advance. The 45 minute lecture begins at 7pm sharp, with a drinks reception to follow. Admission to the museum's exhibition is included in the ticket price (doors open from 6.30pm).
Tickets: £7.50 / £5.00 students
(advance booking essential)
To book please contact j.munday@thefanmuseum.org.uk or call 020 8305 1441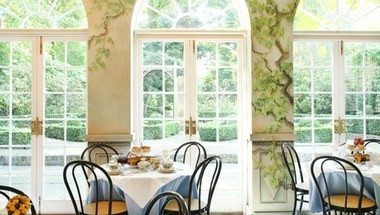 Private Hire
Make the museum the location for your next special event.
Social Media
Connect with The Fan Museum elsewhere online
Join the Newsletter
Get regular updates on upcoming events and new displays.