On a summer's evening in 1593, two men meet at The Dirty Duck Inn in Stratford on Avon – an occasion that leads to an extraordinary relationship that changed the face of world theatre.
Written to celebrate Shakespeare's 400th anniversary in 2016, this international premiere showcase of award-winning author Adrian Drew's new play, is a combination of speculation, comedy and pathos guaranteed to both surprise and entertain!
Adrian Drew has written 26 plays and all have been performed on London's Fringe, three in regional venues, one Off-Broadway and one in Buenos Aires.
Tickets include light refreshment and VIP entrance to the museum's latest exhibition from 6.30pm. It starts at 7.30pm promptly, runs for approximately 2hrs 15 mins, and there can be no admission once the performance begins.
The play is not suitable for audiences under 16 years of age.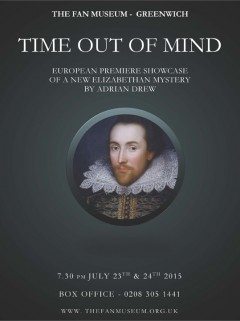 Early booking is absolutely essential as all previous museum productions by Adrian Drew have sold out several weeks prior to performances.
Tickets: £12.00
To book please contact j.munday@thefanmuseum.org.uk or call 020 8305 1441