To coincide with The Fan Museum exhibition, Waterloo: Life & Times, Robert Evans will give a lecture on the life of Arthur Wellesley, Duke of Wellington, with a focus on the period surrounding the Battle of Waterloo in June 1815. Evans will explore both the personal and public image of the Duke as the archetypal hero figure, and will bring to life the extravagant social scene of the period, which revolved around glittering events such as the Duchess of Richmond's Ball.
Robert Evans is a writer, researcher and lecturer in military history, specialising in the British Army during the Napoleonic Wars. A former employee of both the Guards Museum and The National Army Museum, Robert has also worked at Apsley House, the London residence of the Duke of Wellington.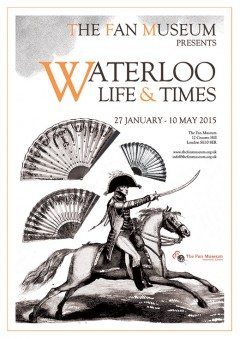 Early booking is essential, as all of the previous 'In Celebration!' events have sold out well in advance. The 45 minute lecture begins at 7pm sharp, with a drinks reception to follow. Admission to the exhibition, Waterloo: Life & Times, is included in the ticket price (doors open from 6.30pm).
Tickets: £10.00 / £5.00 students
(advance booking essential)
To book please contact j.munday@thefanmuseum.org.uk or call 020 8305 1441