Exhibitions
Discover our diverse programme of fan-themed temporary exhibitions
From religion to royalty through to plastics and politics, since first opening to the public in 1991, the Museum's 90+ temporary exhibitions have covered a breath-0taking variety of fan-related topics. Typically changing every few months, notable past ventures include prestigious exhibitions incorporating loans from the Royal Collection and State Hermitage and contemporary displays featuring the work of lace makers, street artists and modern fan makers such as Sylvain Le Guen. Striking a balance between tradition and innovation, the carefully curated displays pivot around a central display case which often features period costume and/or objets de vertu relevant to themes explored within the displays.
20th April 2022 - 24th September 2022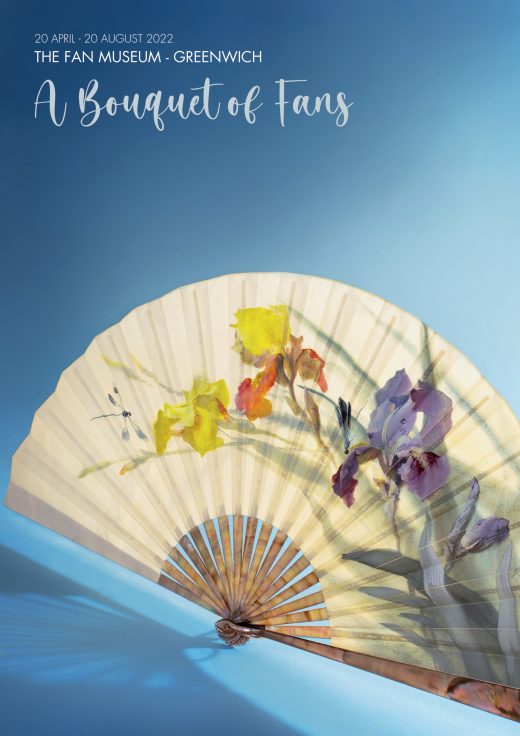 From late Spring to the end of Summer, our first floor galleries will be home to a spectacular exhibition of more than 80 flower-themed fans, A Bouquet of Fans. Curated by the Museum's Founder & Director, Hélène Alexander, the vast array of floral designs on show span the centuries dating back to the late 16th Century.
Read more ›
Past Exhibitions
Since opening to the public in 1991, The Fan Museum's programme of temporary exhibitions has covered an extraordinary range of fan-related topics. Explore the archive here.
Search the Website
Enter a search term below to search the whole website.
Join the Newsletter
Get regular updates on upcoming events and new displays.
Easily opt-out at any time - Privacy Policy
Museum Admission Pricing
Adults: £5.00
Children (age 7-16): £3.00
Concessions: £3.00
Students (with vaild student card)
Senior citizens
Registered disabled
English Heritage
Friends of The Horniman
Friends of The Victoria and Albert Museum
Staff/Volunteers of the National Maritime Museum
National Trust Members:
50% discount on the Adult price tickets
Free Entry for…
Children under 7, Art Fund Members and London Pass Members
Wednesday Special:
Free entry for disabled visitors and carers (except for groups)
Please note that the discounts listed above cannot be applied when visitors are part of a large group visit or guided tour group.  Please click here for further details.
Group Bookings
X
Please note: We will be closed Saturday 27th August.
The Fan Museum cannot accept any new guided tour/private event bookings for September 2022. The Museum will otherwise remain open to the public Wednesday-Saturday, 11h00-17h00.
Thank you for your understanding.