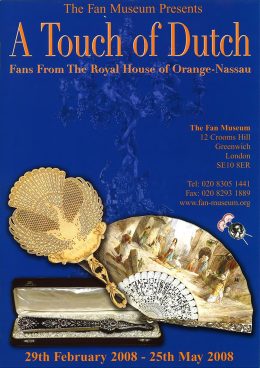 The first opportunity to view this amazing collection outside the Netherlands, the exhibition "A Touch of Dutch – Royal Fans from the House of Orange-Nassau", is taking place at The Fan Museum from 29th February to 25th May 2008. Displaying fans that have belonged to four generations of ruling monarchs, as well as intimate portrait miniatures and photographs, the exhibition is the result of international research, which has shed new light on these fascinating and visually stunning objects.
The loan of this unique collection from the House of Orange-Nassau Historic Collections Trust and the Royal Collection, as well as personal loans from H.M. Queen Beatrix, and H.R.H. Princess Maxima, is unprecedented. Exploring the relationship between the fan as status symbol, fashion accessory and expression of personal taste, the exhibition showcases a family of successive connoisseurs, each of whom appreciated the beauty and craftsmanship of these spectacular, mobile works of art.
On show are 68 fans dating from the 18th to the 20th centuries: virtuoso pieces created by Europe's greatest fan makers, studded with precious jewels and made even more fascinating through their meticulously recorded provenance. Also included are two fans painted by Queen Wilhelmina, a skilled amateur whose artistic creations add a personal dimension to the exhibition.
The exhibition of such delicate objects has necessitated a comprehensive programme of conservation, carried out by The Fan Museum's conservation studios, to ensure that the fans on display are viewed in their best condition, and are stabilised for their future appreciation. A fully illustrated catalogue accompanies the exhibition.
The Fan Museum is the first museum in the world exclusively dedicated to fans. A centre of excellence in academic research and specialist conservation, it houses a unique collection of more than 4,000 objects related to fans and fan-making. In addition to its permanent displays, it features several thematic exhibitions each year.