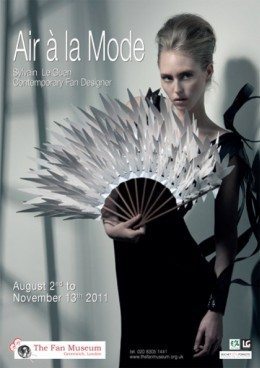 An exhibition at The Fan Museum which will showcase the work of an exceptional artist / craftsman…
Born in 1977, Sylvain Le Guen has always been intrigued by the beauty and complexity of fans which, over time, have become an expression of his immense artistic talent. His passion for the subject has led him to create highly original fans of every kind, some of which will be seen at The Fan Museum for the first time.
Sylvain 'knows' fans intimately and he understands the intricacies involved in the making of these exceptional objects. Using a variety of techniques and materials, he creates contemporary designs for the montures (i.e. the sticks and guards) while his delicacy of touch also encompasses the making of the leaf of the fan, producing the most unusual, imaginative, but always fine, fans.
Sylvain Le Guen's work is unique and should be regarded as Decorative Art at its very best. Often inspired by the Japanese art of Origami, the originality and elegance of Sylvain's fans is French: Haute Couture at its most outstanding. But his work also reflects a charming personality seldom encountered in the world of Fashion.