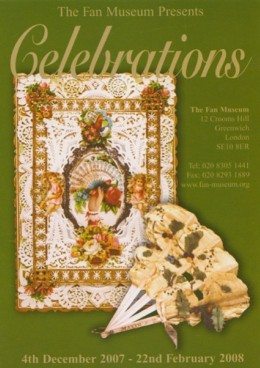 As December approaches, Christmas is acknowledged as a time of celebrations by many different nations and cultures. However, throughout the year there are numerous times when people or countries choose to come together to honour significant dates and events. This exhibition explores how fans have very often been the item of choice to celebrate or commemorate these special occasions, and features a selection of eighteenth nineteenth and twentieth century mainly European fans that are decorated with images of festivities from these previous centuries.
On December 1st, 1783, half the population of Paris gathered in the Tuileries Gardens to watch the ascent of a "Carline" or hydrogen balloon. This, and the success of two earlier ascents, one in June and the other in November of that year, meant that, since January 1st was just one month away, (and that it was customary to give presents for the New Year), anything that might constitute a gift must be decorated "à la ballon."
Since the time of Elizabeth I, fans have been one of the most acceptable of gifts; indeed several fans are mentioned in the Queen's wardrobe list of 1600, mostly presents for the New Year celebrations.
Ballooning fans are now rare, but they are not the only unusual fans to be seen in The Fan Museum's new exhibition entitled "Celebrations." Parties, dances, royal births and marriages, calendars shaped as fans, mythological banquets, political events, are all subjects for the fans which mark an occasion for rejoicing. This exhibition covers a wide range of fans, from the finest eighteenth century fans, to advertising gifts from hotels, including a small number exclusively by the museum. Merry Christmas and a Happy New year!