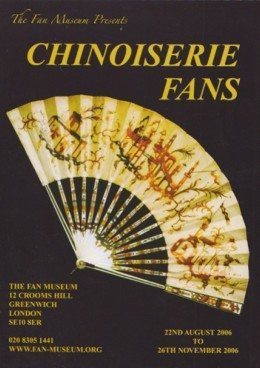 An exhibition exploring the decorative styles of the Orient, and their enduring creative inspiration in eighteenth century Europe is on show at The Fan Museum, Greenwich from 22nd August until 26th November 2006.
From as early as the seventeenth century, Europeans had a vision of foreign lands that only an intrepid handful had visited. These mysterious places lay beyond the eastern confines of the known world, and the distinctions between China and Japan were blurred in the exotic fantasies of the west. However, trade routes established before the Roman Empire ensured that select cargoes of silks, precious objects and the finest ceramics made the long journey to Europe; gradually introducing the beauty of the Orient to a new and willing audience.
As the centuries progressed and European colonies grew, trading organisations such as the East India Companies of the Netherlands, France and England ensured that greater quantities of goods reached Western buyers. The distinctive Oriental blue and white porcelain was particularly appealing, and proved extremely popular with buyers wishing to assert their status through the purchase of exotic goods. Furthermore, these commodities offered inspiration to home-grown artists and craftsmen, who interpreted the Orient through a European perspective and thus Chinoiserie was born.
From humble beginnings, the taste for Oriental decoration grew to encompass all aspects of design, from fine and decorative art through to architecture and furniture. Just as the fantastic onion domes and ogee arches of the Brighton Pavilion pay little regard to geographical accuracy, so does the marriage of European and Oriental design of the fans and other objects featured in this fascinating exhibition. Pink cheeked Europeans are dressed in Oriental costumes, situated in landscapes that combine elements of the Orient and European pastoral idylls.
As the eighteenth century progressed, the vogue for Chinoiserie swept across Europe, each country adopting its own interpretation of the style. France, always at the vanguard, embraced the exotic creatures, plants and figures featured in authentic imports. Indeed tapestries, paintings and porcelain all reflect this vision of an imaginary country of gentle dragons and moustachioed mandarins. Artists such as Watteau, Boucher and Pillement are the better known exponents of this style.
With loans from the Bowes Museum and exquisite fans from the museum's unsurpassed collection, as well as other loans, Chinoiserie sheds new light on the enduring appeal of Oriental design in the west. Furthermore, the eighteenth century home of The Fan Museum with its own oriental style garden forms the perfect back-drop against which to display these charming objects.