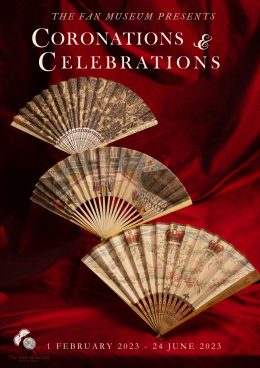 From Wednesday 1st February, The Fan Museum reopens its doors in 2023 with our new exhibition, Coronations & Celebrations.
We greet the new year with an exhibition in commemoration of the crowning of King Charles III and the Queen Consort (6th May 2023) – who has, for many years, taken a great interest in The Fan Museum's work. Come and see centuries of royal fans from across the continent: from a special, printed, English fan marking the restoration of Charles II almost 400 years ago, to the contemporary fans made by The Fan Museum in honour of the late Queen Elizabeth's Diamond Jubilee.
Spanning centuries of history across the much-known royal legacies of Europe, this exhibition is not merely a look back on what has been but a rally of hope for what is to come.
Coronations & Celebrations concludes on Saturday 24th June and is not to be missed in this monumental and historical year.