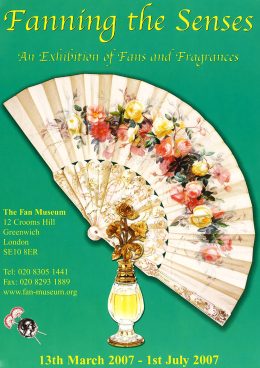 Tracing their origins to the cradle of civilization and beyond, fans are depicted in the carved reliefs of ancient Egypt, and archaeological discoveries indicate that exotic perfumes were an essential part of life, as perfume receptacles have been found among the many possessions entombed with Pharaohs to ensure safe passage to a contented afterlife. Following trade routes from east to west, scented oils and their precious ingredients, as well as fans and other prized cargoes slowly wound their way to Europe, where they received a rapturous welcome from a curious and enthusiastic public.
This exhibition of just over 100 fans with floral motifs of every kind from Europe and Asia, explores how flowers have been used to inspire decorative motifs and to provide alluring scents to a lady's toilette. Whether worn directly as a corsage or combined with essence to create perfume, flowers have enduring associations with femininity and beauty.
From the seventeenth century onwards fans were often decorated with copies of classical paintings. On opening her fan, a lady would present mythological and historical scenes to the viewer that assured her educated status. However, for her own eyes the reverse of the fan would show a wonderful profusion of flowers. Fashionable tulips took pride of place beside the rose, the flower of Venus, goddess of Love. There were also hyacinths, jasmine and carnations, popular at the court of Louis XIV, who appreciated their sweet scents that veiled the unwashed stench of his courtiers.
In the eighteenth century, Madame de Pompadour and later Queen Marie-Antoinette, both dictated fashion at Versailles; and their style choices inspired many imitations. Marie-Antoinette had a personal perfumer – Jean-Louis Fargeon – and he created bespoke scents to reflect her moods and personality.
For the great "flowering" on fans we have to wait until the nineteenth century and particularly the emergence of the Art Nouveau style, which inspired the most spectacular fans, painted with life-size blooms of botanical precision and consummate art. Also as the trade exchange with the East increased, it is likely that the artists and craftsmen from Europe were influenced and inspired by the importance of flowers in Japanese culture, and the more consistent way of using flowers in art in China.
Fans and fragrances have much in common as they were both used from time immemorial for love and for war, as gifts and for ceremonials, to flirt, seduce and conquer and as a status symbol while their expense sustained their exclusivity. They were both symbols of luxury and sophistication, and evocative of the great journeys around the globe that would bring back exotic spices, scents, and flavours from foreign climes.
It is also striking that at the beginning of the 20th century when it became more affordable to print and make fans, perfumers very often used fans as advertising giveaways to present a new fragrance to the press or to their best clients. A few of these advertising fans will be shown within the exhibition together with bottles of scent generously lent by the best Perfume Houses (Christian Dior, Bourjois, Penhaligon's, Guerlain, Roger& Gallet, Angela Flanders), which to this day carry on the long standing tradition of creating elegance and sophistication and which use the best techniques to extract the most subtle and refined fragrances from flowers.