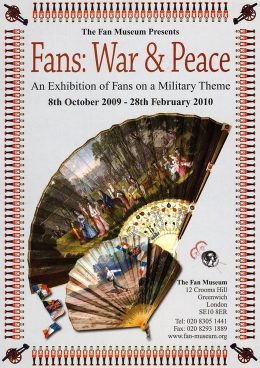 The sight, on television over the last few years, of our brave troops going into battle has inspired The Fan Museum to look more closely into the subject of fans with a military theme, and is the source of the forthcoming exhibition Fans: War and Peace on show at The Fan Museum, Greenwich, from 8th October 2009 until 28th February 2010 – a project only made possible through the Entente Cordiale, which exists between The Fan Museum and Le Cercle de l'Eventail.
This exhibition encompasses a history of the World seen through objects too long regarded as frivolous accessories to dress. As such it presents many rare, fascinating and resonant items whose design, imagery and provenance will provide visitors with important new insights into the depiction of warfare throughout the ages.
Many of the earlier fans derive from well know paintings by artists such as Rubens, Pietro da Cortona, Albani, Guido Reni etc. These in turn spring from an interest and inspiration, at that time, in the Antique. Often a tribute to a great monarch was to represent him as one of the heroes of antiquity. Battles such as those of Alexander the Great, the chivalry of emperors such as Titus and even biblical subjects such as David and Abigail are an excuse for splendid compositions, with men in armour. Often, in the background is an encampment with tents and other objects contemporary with the painting itself.
Fans of the seventeenth and early eighteenth centuries are full of such representations, while, by the middle of the eighteenth century more realistic fans show the military in uniform, in their role in society, a role which was to become even more evident in the nineteenth and twentieth centuries. Furthermore, in the eighteenth century, with the growing demand for cheaper fans, printed with popular subjects of the day, such as an important victory, a celebration of a popular naval or military leader or even a caricature of the "enemy, could overnight appear on fan leaves.
Nineteenth century fans relate to uniform and the increasing importance of the military in everyday life such as the growth of services like the Red Cross, while the twentieth century with World Wars I and II brings the picture to life with startling realism. Nor should warrior nations such as Japan, where the fan can also be a weapon, be forgotten in this "exercise".
The subject is so vast, that The Fan Museum will be showing a first exhibit on "Home Territory", at 12, Crooms Hill and early next year a further more detailed exhibit of fans on a military theme in a social context will be seen at the Heritage Centre in Woolwich; concurrently, fans which show guns, canon and relevant illustrations may be viewed at Firepower, the museum of the Royal Artillery, also in Woolwich. In the New Year, The Fan Museum's Coldstream Guards fan, painted by Wymer, goes to The Guards Museum in London.