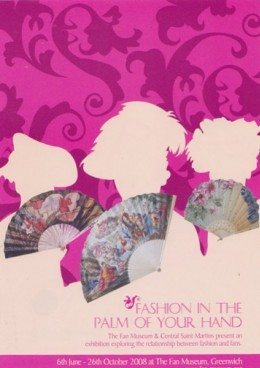 The exhibition Fashion in the Palm of your Hand is the culmination of the innovative creativity of Central Saint Martins combined with the solid tradition of The Fan Museum, the first museum in the world exclusively dedicated to fans.
Just like today's 'It' bag, the fan was once considered a must-have accessory for the fashion conscious woman. As the ultimate feminine status symbol, Elizabeth I popularised their use in England, and women ever since have used fans as both an implement of flirtation and a display of wealth and power. Indeed, early examples encrusted with jewels and hewn from precious materials show how the fan was an extension of the opulence of court life. However, the fan is now a less exclusive object used in many different contexts ranging from pop videos, to fashion shows, photo shoots, and even advertising campaigns. In fact it seems that the fan is very often used more for what it may represent, than for the practical purpose of cooling its owner.
Fashion in the Palm of your Hand is a unique exhibition that explores fans as a filter for understanding fashion as a social and historical indicator. Throughout history, the fan has been adapted to fit its context. From the austere aesthetics of Oliver Cromwell, to John Galliano, whose Spring Summer 2007 Haute Couture show for Dior sought inspiration in the fan; and even the Burlesque artiste, Dita Von Teese who has reignited its erotic associations through her strip revue, where the fan both reveals and conceals.
There are still fan makers practising this art at a couture level, while high-street stores including Accessorize continue to sell them commercially. This exhibition will showcase a select number of fans dating from the seventeenth century through to contemporary examples, including two fans from Dior's Haute Couture Spring Summer 2007 collection. Many are handpicked from the personal collection of Hélène Alexander MBE, alumnus of the Central School and Director of The Fan Museum.
Prestigious companies including Waitrose and Liberty, whose values reflect the re-interpreted tradition of this exhibition, are the in kind sponsors of Fashion in the Palm of your Hand.