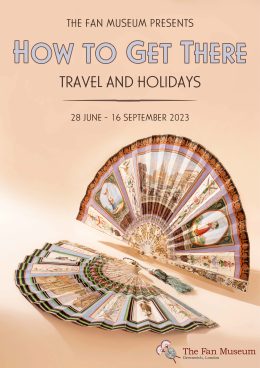 From Wednesday 28th June 2023, The Fan Museum ushers in the summertime with its seasonal exhibition How To Get There: Travel and Holidays.
This exhibition seeks to explain the development of travel and what an increasingly wider public has required for education and leisure. Starting with the Grand Tour through to the development of transport of every kind, this seasonal treat highlights the historic – and contemporary – importance of seeing the world and taking time to relax.
How To Get There: Travel and Holidays remains open until Saturday 16th September 2023 and is highly recommended for those with a taste for travel.
EXTENDED BY POPULAR DEMAND! NOW CLOSING SATURDAY 28th OCTOBER!