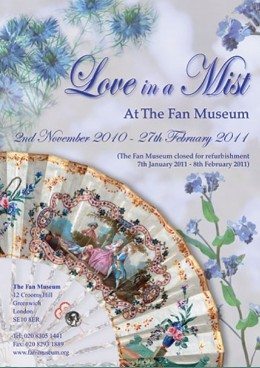 Love in a Mist is the name given to a charming, delicate flower (Nigella Damascena), light blue in colour, with thin wispy grey-green sprays around it. Forget-me-not (Myosotis), the flower of love for sentimental Victorians is also pale blue and gentle as the wafting of a fan.
The exhibition of fans entitled "Love in a Mist" celebrates that perennial phenomenon which is Love in all its aspects. Fans for Eros, the god of Love, and his mythical mother Aphrodite (Venus) the goddess of Love and Beauty, hearts and amatory devices, flowers of Love, all have their place on fans which promote that great and universal feeling.
Hearts and Roses may inspire the young at heart but love at first sight is by no means a new occurrence. Biblical fans illustrate those beautiful words of the Old Testament, when Jacob first met Rachel who was "graceful and beautiful". She was coming to water her father's sheep at the well – a moment often depicted in Art, and there "he kissed Rachel, and was moved to tears".
At a time when we all have to "tighten our belts", it is good to remember that true love is still alive and well, and that "love springs eternal" – in any event at The Fan Museum.