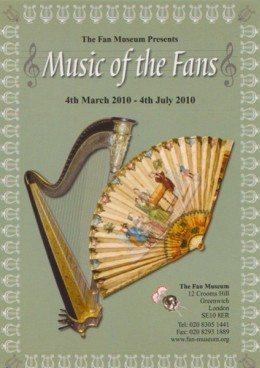 This is a lighthearted exhibition to be seen at the height of summer, when thoughts of lazy days on the beach or on a cruise are uppermost in the mind. It was not always thus. What we think of as a holiday in the twenty-first century did not exist until the early twentieth century, and even then a bikini-clad girl would have been regarded as an alien from outer space!
This exhibition – on show at The Fan Museum from 6th July until 31st October 2010 – traces the evolution of the concept of a holiday by the sea from fans of the Grand Tour in Naples and Venice (for a privileged few), to the advertising fans of the late nineteenth and early twentieth centuries which show how the development of the railways makes the seaside accessible to the masses.
A glance at some of the mythological fans takes us into the world of legend when sea monsters devoured (or are about to devour) naked ladies. Chinese 'applied faces' fans depict the reaches of the estuary of the Pearl River at Canton with its famous pagoda landmark, while others show this busy shipping port with its 'hongs' along the waterfront.
On Tuesdays and Sundays tea is served in The Fan Museum Orangery. Visitors to the museum may also enjoy afternoon tea on board a Japanese cruise liner by reading the alarming menu of delicacies on a fan designed for the Captain's table in 1936. The Fan Museum hopes this 'Bill of Fare' will be enjoyed by the widest audience!