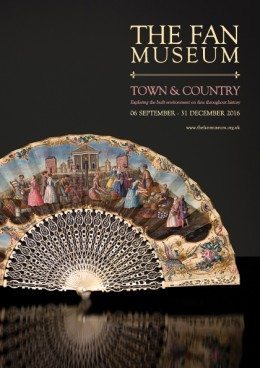 The Museum's twenty fifth anniversary year finishes with an unusual perspective on a fascinating theme: an exhibition of fans which depict the built environment.
Throughout the centuries fan leaves provided a canvas on which fan painters & printers recorded changing fashions in architecture.  This exhibition brings together fans which depict both domestic and stately houses, famous architectural landmarks, bustling city squares, parks and grand hotels.
Buildings on fans are not as numerous as those which display figures or flowers, but when they do appear they tell us so much about the time when both interiors and exteriors were made; the people they belonged to and generally the human appeal, which makes fans delightful reflections of their time.
This exhibition explores the varied influences of architecture throughout history and proves once again that the greater arts are closely connected with the lesser yet infinitely more accessible Decorative Arts.