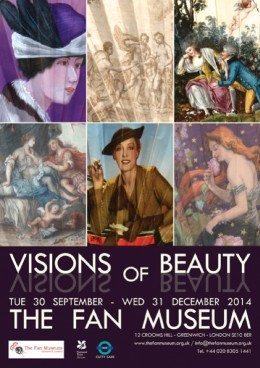 Visions of Beauty brings together an exceptionally diverse array of fans both to question & celebrate impressions of beauty and desirability…
From graceful depictions of mythological goddesses to sinuous fin-de-siècle society belles, these fans echo changing canons of beauty, from the mid 17th century onwards.
The exhibition looks also to the spaces in which beauty is typically 'constructed' – the toilette/boudoir – and subsequently 'performed' – Fête galantes, city parks & gardens, court balls and the opulent arenas of opera and theatre.
At a time when the UK cosmetic industry is thought to be worth in excess of £2.2bn, Visions of Beauty vividly illustrates that the emphasis placed upon pursuing & retaining beauty is by no means a modern phenomenon.