On Saturday 27th July 2013 The Fan Museum is holding a Local Community Open Day with the aim of encouraging residents from nearby boroughs to visit the museum.
Since its inception over twenty years ago The Fan Museum has strived to foster a positive connection and increase engagement with the local community, and the forthcoming Open Day provides an opportunity for all sections of the community – particularly those who have yet to visit – to get a taste of one of the UK's most unique cultural institutions.
About the Museum
The Fan Museum opened in 1991, in the heart of historic Royal Greenwich. Its 4000+ collection of predominantly antique fans is housed within two Grade II listed Georgian Town Houses. The permanent collection on the ground floor showcases the museum's eclectic collection: from 11th Century Chinese fan leaves, via elegant Regency styles, to contemporary designs. Here visitors can discover the vast history of the fan, which encompasses themes of fashion, art, politics, court life and more. The first floor gallery houses thematic exhibitions, which change every four months. Each exhibition focuses on a specific subject, offering visitors a chance to view a selection of the world's rarest and most exquisite fans.
Of course there is more to this charming museum than fans alone! The museum shop is full of unique gift ideas, novelties and an array of specialist publications. Visitors can also enjoy a tempting Afternoon Tea (named 'London's Best Value', Daily Telegraph, 2012) on Tuesday and Sunday afternoons, which is served in the elegant Orangery, with its exquisite murals.
Upcoming Events
Thursday 20th February 2020, 2:00pm
The Fan Museum is pleased to welcome cultural historian, author and The Arts Society lecturer, Lucy Hughes-Hallett, who'll give a fascinating talk on a subject closely related to the Museum's first exhibition of 2020, Heroic Figures.
Wednesday 25 March 2020, 19.00-20.00hrs
An illustrated lecture by Cambridge University's Dr Amy Louise Erikson, who recently curated a marvellous outdoor exhibition entitled City Women in the 18th Century.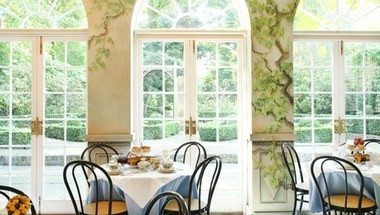 Private Hire
Make the museum the location for your next special event.
Social Media
Connect with The Fan Museum elsewhere online
Join the Newsletter
Get regular updates on upcoming events and new displays.