Fantasy Unfurled: TFM Announces Major Acquisition
The Fan Museum is pleased to announce the acquisition of an extraordinary folding fan decorated by Gustave Doré (1832-1883). Formerly in the private collection of Paris-based antique dealer Gérard Lévy (1934-2016), the fan was widely admired by visitors attending the Museum's 2019 summer exhibition, The Man with the Carnation: Fans from the Gérard Lévy Collection.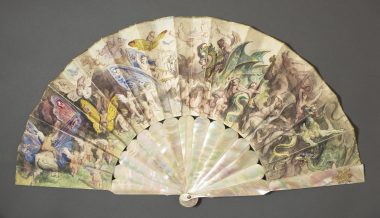 Dated circa 1870, the fan's mother of pearl sticks support a canepin (goat skin) leaf decorated with an original artwork signed by the artist. The subject, loosely based around an 'infernal vision' of Love vanquishing Evil features warring putti, fantastical beasts and other grotesque entities reminiscent of illustrations made by the artist to accompany a deluxe edition first published in 1861 of Dante's epic poem the Divine Comedy.
Doré's imaginary troops, deftly rendered in ink, watercolour and gouache, form battle-ready brigades flanking the principle figures of Satan (astride a dragon, thrusting his pitchfork) and Love (charging toward the enemy upon a pegasus). The overall effect is one of adrenaline-fuelled chaos and may allude to the sufferings endured by France in the aftermath of the Franco-Prussian war (1870-1871). Doré, a fervent patriot, was deeply affected by the conflict and made numerous works in response to it.
Doré is known to have produced several other fan paintings during his lifetime: in 1865 he gifted Olympe Pélissier (1799-1878), second wife of the famous composer, Gioachino Rossini (1792-1868) a fan decorated with an elaborate musical score of the duet 'Ah! Mathilde, idole de mon âme!' from Rossini's 1829 opera, William Tell. An unmounted fan painting, illustrating an episode from Francois Rabelais' (1493-1553) Gargantua and Pantagruel was exhibited at the 2014 Doré retrospective held at the Museé d'Orsay and National Gallery of Canada.
About the Artist
Strasbourg-born Gustave Doré is regarded as an influential figure within the field of nineteenth century art. His creative practice spanned painting, sculpture, caricature, illustration and engraving. Doré was from an early age highly prolific and applied his talents to a wide range of artistic genres from grandiose history paintings to searing satires. He is perhaps best remembered as the period's foremost illustrator who took up the challenge of illustrating the works of a number of seminal literary figures including Cervantes, Milton, Shakespeare, Hugo and Balzac. Today his works can be found in Museums and Galleries throughout the world.
For further information/press images, please contact:
Jacob Moss MA, Curator, The Fan Museum: j.moss@thefanmuseum.org.uk
Upcoming Events
Wednesday 05 May 2021
19.00–20.15 hrs BST, Wednesday 05 May 2021
The Fan Museum at 30: Director's Choice
Join The Fan Museum's Founder and Director, Hélène Alexander as she reflects on 30 extraordinary years (to the day!) of exhibition making.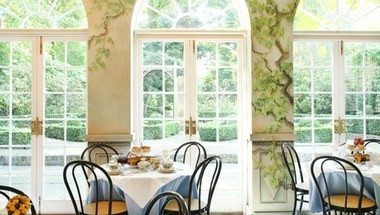 Private Hire
Make the museum the location for your next special event.
Social Media
Connect with The Fan Museum elsewhere online
Join the Newsletter
Get regular updates on upcoming events and new displays.