Fan Making Workshops
Learn the art of fan-making from our experienced tutors
We hold regular fan making workshops on the first Saturday afternoon of each month. These sessions are conducted by an experienced tutor who will not only provide expert guidance, but also a wealth of knowledge about the history and craft of fans.
The classes start at 14.00hrs and last approximately 3 hours during which the participants will make two fans: one of the traditional Chinese shape, the other of the Fontange shape, an early 20th century design. Fan Sticks, equipment and tea/coffee and biscuits are provided by the Museum, all you have to bring with you is two different sheets of paper. Gift wrap is suitable, but not too shiny or folded.
Bookings
Bookings must be made in advance as numbers are limited to a maximum of six persons. Children (who must be over 12 years of age) should be accompanied by an adult. For further details or to check the availability of a particular class, please contact The Fan Museum by e-mail: info@thefanmuseum.org.uk or call 020 8305 1441. 
The workshop booking form can be Downloaded Here (pdf).
Workshop Cost: £25.00 per person
Advance payment of the full amount is required to secure your place.
Museum Opening Times
Tuesday - Saturday
11am - 5pm
Sunday
12pm - 5pm
Planned Closures
12 Crooms Hill, Greenwich,
London SE10 8ER
Admission
National Trust Members:
50% discount across all admission categories
Free Entry for...
Children under 7, Art Fund Members and London Pass Members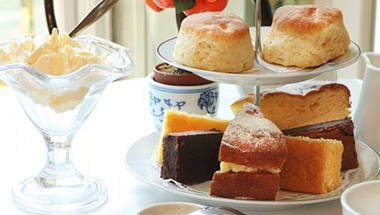 Tea in the Orangery
Enjoy afternoon tea in the beautifully muraled museum orangery.