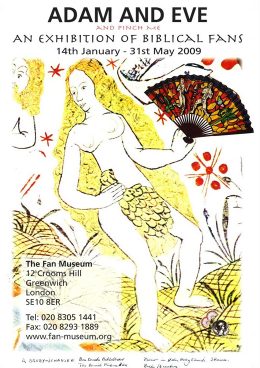 Fans have been in use from time immemorial and there are at least three references in the Scriptures to winnowing fans (vanus in Latin, hence the word "fan") which separate the wheat from the chaff. This exhibition, while telling Bible stories in an unusual way, will open yet another window on to the many facets of fans and their uses.
Dating as far back as the 17th and 18th centuries, the fans are full of contrasts, from spectacular paintings and magnificent montures to simple, often naïve fans. For example, Ruth and Boaz appear on two particularly beautiful fans, while on other fans they are painted in a very unsophisticated way. Indeed, the figure of Boaz or the Overseer on one of these fans is almost comical, his legs clad in what look like badly elasticated socks!
In Art History, subjects from the Old Testament are seen as a prefiguration of the New Testament: for instance, Abraham's intended sacrifice of his only son, Isaac, is seen as a forerunner of the Crucifixion. It is, therefore, not altogether surprising that fans which, by the 17th and 18th centuries, are purely secular objects (although ladies carried them to church) should depict subjects mainly from the Old Testament, many of them derived from prints of paintings.
It is significant that many "religious" fans came from Holland where, it seems, their production was a "speciality". There a distinctive design for the fan leaf evolved, comprising a central cartouche with an illustration of the story, flanked by two vignettes, often painted with symbols such as a beehive (Eloquence) or a bound sheaf of corn (Concord) on a light coloured background strewn with flowers.
Sometimes, in the earlier fans, the contrast between the reverse and obverse of the fan is striking: One asks oneself what lady would want to be given a fan painted with Judith and the horrid bleeding head of Holofernes, even if the reverse is delightfully ornamented with flowers. The back of the leaf – the side which is carried facing the owner – gives a clue to the gory detail on the front, or the subject on the fan may have a bearing on the recipient of such a gift. For instance, representations of Rebecca at the Well or Rachel & Jacob may have been intended as betrothal fans, as fans were certainly part of a lady's "corbeille de mariage".
In every representation, the Scriptures are adhered to in every detail, giving the impression that the picture is being "read". Interpretation is as relevant today as it was in past generations, and these biblical fans give us an insight into the thoughts and lives of people who were not unlike ourselves but whose circumstances were different. These biblical stories are universal, they apply to everyone – it is just a matter of "interpretation".